On Mother's Day, all moms deserve to be pampered. And what better way to
pamper mom than with yummy snacks and meal. Try one or try them all, but most importantly, ENJOY!!
Ingredients:

2 1/4 cups all-purpose Gold Medal flour
2 1/2 teaspoons baking powder
2 teaspoons sugar
3/4 teaspoon baking soda
1/2 teaspoon salt
6 tablespoons cold unsalted butter, cut into cubes
1 cup buttermilk
1/2 cup Nutella
Sea salt, for sprinkling on biscuits, optional

Directions:

1. Preheat the oven to 400 degrees F. Line a large baking sheet with parchment paper and set aside.

2. In a large bowl, whisk together flour, baking powder, sugar, baking soda, and salt. Mix in cold butter with your fingertips until mixture resembles coarse meal. Add buttermilk and stir with a spatula until just combined. With a knife, gently swirl the Nutella into the biscuit dough.

3. Drop round spoonfuls of dough, about three tablespoons, onto prepared baking sheet. Sprinkle biscuits with sea salt, if desired. Bake for 12-15 minutes or until tops are slightly golden brown. Remove from oven, let cool to room temperature and serve.
Strawberry Cheesecake Mousse
Ingredients
8 oz (224 g.) package cream cheese 10 oz.
2 cups, ( 283 g.) fresh strawberries, stems removed, washed and sliced
1/2 cup (125 ml) 4 oz. heavy cream
1/2 cup (55g.) powdered sugar
1 tsp vanilla more sweetened
whipped cream for topping, if desired
more fresh strawberries for topping, if desired
Directions
Place cream cheese, fresh strawberries, vanilla and powdered sugar in a food processor or blender. Puree them together until smooth. Then place the cream cheese mixture in a large bowl. Whip the heavy cream just until stiff peaks form. Fold the whipped cream into the cream cheese mixture. Spoon the mousse into individual bowls, glasses or cups. Refrigerate a few hours before serving. Top the individual servings with sweetened whipped cream and a fresh strawberry. - See more at: http://alchemybaking.blogspot.ca/2011/03/strawberry-cheesecake mousse.html#sthash.hANtz3KZ.dpuf
O Fizz
Ingredients
3 teaspoon(s) sugar (or simple syrup)
12
fresh mint sprigs, plus extra for garnish
3 ounce(s) fresh lime juice
Ice
8 ounce(s) vodka
Cranberry juice
Champagne or sparkling wine
Fresh raspberries, for garnish
Directions
For each fizz, add 3/4 teaspoon sugar, 3 mint sprigs, and 3/4 ounce fresh lime juice to a cocktail shaker. Muddle content with a longhandled muddler or bar spoon; add ice to shaker, along with 2 ounces vodka and a splash of cranberry juice. Shake vigorously and strain into a flute. Top the glass with champagne; garnish with a few fresh raspberries and a sprig of mint. http://www.delish.com/recipefinder/sparkler-fizzy-cocktail-drink-recipes
Gruyere & Bacon Stuffed French Toast

Makes 4 Slices


Ingredients
4 Slices, good sourdough bread (about 1 1/4th inch thick)
8 Bacon Slices, Cooked until crispy and crumbled
1 C. Gruyere Cheese, grated
Cinnamon dusting French toast
Butter for cooking French toast

Custard

2 Eggs
1 C. Half & Half (could use whole milk or 2% milk)
1 t. Vanilla
Directions

Once you have the sour dough bread sliced, you will want to with a sharp knife cut into the bottom of each slice and gently slice to almost the end of the top and sides to create the pocket to stuff each slice.

Add the cooked bacon once cooled and gruyere cheese together in a bowl. Divide evenly among the four slices of bread and begin to gently stuff each one. Once you have completed, then gently press each stuffed bread together to prevent the inside ingredients from escaping.

Prepare the custard by adding the eggs, half & half and vanilla together and whisk gently until combined.

Use a large griddle to cook all of the French toast at the same time. Heat griddle on medium and add approximately 2 tablespoons of butter to the griddle and spread evenly. Meanwhile dip each stuffed bread into the custard mixture and add to the heated griddle. Sprinkle with cinnamon. Let cook over medium for about 5 minutes per side – if your cook top runs hot, you may want to reduce the heat to prevent burning.

Serve with your favorite maple syrup. To make more, simply double or triple the recipe to serve the desired amount of guests. Enjoy!!http://authenticsuburbangourmet.blogspot.ca/2012/01/gruyere-bacon-stuffed-french-toast.html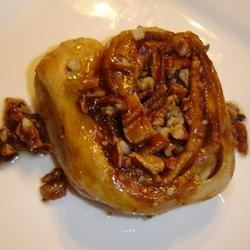 Pecan Sticky Buns
INGREDIENTS:
4 1/2 teaspoons active dry yeast
1/2 cup warm water (110 degrees F/45
degrees C)
1 1/4 cups buttermilk
2 eggs
5 1/2 cups all-purpose flour
1/2 cup margarine, softened
1/2 cup white sugar
2 teaspoons baking powder
2 teaspoons salt
2 tablespoons butter, softened
1/2 cup white sugar
2 teaspoons ground cinnamon
1 cup chopped pecans
1/2 cup packed brown sugar
1/2 cup butter, melted
DIRECTIONS:
1.

Dissolve yeast in warm water in a large mixing bowl. Add buttermilk, eggs, 2 1/2 cups flour, 1/2 cup of the butter or margarine, 1/2 cup of the sugar, baking powder and salt. Blend 30 seconds with mixer on low speed, scraping sides and bottom of bowl. Beat 2 minutes on medium speed. Stir in remaining 3 cups flour. (Dough should remain soft and slightly sticky) Knead for 5 minutes, or about 200 turns on a lightly floured board. Cover dough and allow to rest for half an hour.
2.

Divide dough in half and roll each half into a 12x7 inch rectangle. Spread each half with 1 tablespoon soft butter and sprinkle with 1/4 cup of the sugar and 1 teaspoon of the ground cinnamon. Roll up the halves, beginning at the wide side. Seal well by pinching the seams. Cut each roll into 12 slices.
3.

Coat two 9 inch round cake pans with 1/4 cup melted butter, 1/4 cup brown sugar, and 1/2 cup chopped pecans in each pan. Place 12 dough slices in each pan, leaving a small space between slices. Let rise until doubled.
4.

Bake in a preheated 375 degrees F (190 degrees C) oven for 30 minutes. Invert pans onto serving plates immediately.
ALL RIGHTS RESERVED © 2014 Allrecipes.com
Coffee & Kahlua Crazy Cake
Ingredients
1 1/2 Cups flour
3 Tbsp. cocoa
1 Cup white sugar
1 tsp. baking soda
1/2 tsp. salt
1 tsp. white vinegar
1 tsp. pure vanilla extract
5 Tbsp. vegetable oil
3/4 Cup brewed coffee
1/4 Cup Kahlúa
Directions

Preheat oven to 350 degrees F.

Mix first 5 dry ingredients in a greased 8" square baking pan. Make 3 depressions in dry ingredients - two small, one larger. Pour vinegar in one depression, vanilla in the other and the vegetable oil in third larger depression. Pour coffee and

Kahlúa

over all. Mix well until smooth.

Bake on middle rack of oven for 35 minutes. Check with toothpick to make sure it comes out clean. Cool. Top with your frosting or sprinkle with powdered sugar.
http://www.sweetlittlebluebird.com/2013/06/tried-true-tuesday-coffee-kahlua-crazy.html